Sunday 6th of January at 19.30: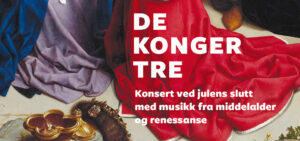 "De konger tre"
Consortium Vocale Oslo
Alvilde Riiser and Mari Lunnan – Soprano
Members from Norwegian Cornett & Sacbutts
Marcus André Berg organ
Conductor Terje Kvam
The Epiphany brings the Christmas celebration to an exotic ending.
This is the day of remembrance that the holy three kings came from eastern countries
to Bethlehem to worship the Infant, and with them they had precious ones
gifts. Constortium Vocale Oslo invites to a concert at the end of Christmas
with music from the Middle Ages and the Renaissance written for this celebration.
---