9th and 10th of December
Oslo Cathedral
"Klinge skal et jubelkor"
Advent concert with all choirs in Oslo Cathedral
9th of December at 15:30 and 18:00
10th of December at 16:30 and 19:00
Information in Norwegian
---
18th to 24th of November
Concerts in Lalibela and Addis Abeba, Ethiopia
18.11 – Performance at Fendika Cultural Center Adis Abeba
20.11 – Performance in the Monastry: Yemrehanna Kristos, Lalibela
22.11 – Seminar for thelological students in St. Francis Friary, Addis Abeba
22.11 – Concert at the Norwegian Embassy in Ethiopia
23.11 – Concert at Aliance EthioFrancaise – Adis Abeba
24.11 – Contributing to the Mass in International catholic church, Adis Abeba
---
13. September 2019
Oslo Cathedral
Consortium Vocale Oslo performed in Oslo Cathedral during Oslo Culture Night
---
4th of August 2019
Tjøme, Norway
– Open air mass  in "Steinbruddet" – Brøtsø at 11 am
Information in Norwegian

– Concert in Tjøme church at 5 pm
Information in Norwegian
---
10. February 2019
Widor: Mass
Consortium Vocale Oslo
Bragernes kirkes solistensemble
Conductor: Terje Kvam
The music was performed during a service in
Bragernes Church, Drammen
In cooperation with Ad Fontes
---
Sunday 6th of January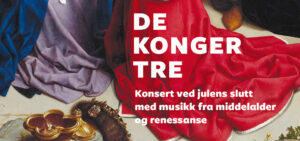 "De konger tre"
Consortium Vocale Oslo
Alvilde Riiser and Mari Lunnan – Soprano
Members from Norwegian Cornett & Sacbutts
Marcus André Berg organ
Conductor Terje Kvam
The Epiphany brings the Christmas celebration to an exotic ending.
This is the day of remembrance that the holy three kings came from eastern countries
to Bethlehem to worship the Infant, and with them they had precious ones
gifts. Constortium Vocale Oslo invites to a concert at the end of Christmas
with music from the Middle Ages and the Renaissance written for this celebration.
---
Concerts 2018
Concerts 2017
Concerts 2016
Concerts 2015
Concerts 2014
Concerts 2013
Concerts 2012
Concerts 2005 – 2011
Concerts 2000 – 2004 
.