6. of January 2020 – Oslo Cathedral
Draumkvedet
With Berit Opheim, Rolf Lislevand and Nils Økland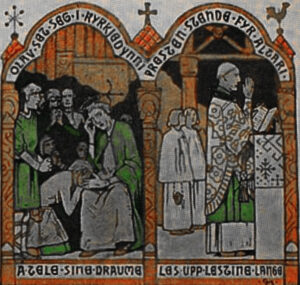 "Draumkvedet" ("The Dream Poem") is a Norwegian visionary poem, probably dated from the late medieval age. It is one of the best known medieval ballads in Norway. The first written versions are from Lårdal and Kviteseid in Telemark in the 1840s.
The protagonist, Olav Åsteson, falls asleep on Christmas Eve and sleeps until the thirteenth day of Christmas. Then he wakes, and rides to church to recount his dreams to the congregation, about his journey through the afterlife. The events are in part similar to other medieval ballads like the Lyke Wake Dirge: a moor of thorns, a tall bridge, and a black fire. After these, the protagonist is also allowed to see Hell and some of Heaven. The poem concludes with specific advice of charity and compassion, to avoid the various trials of the afterlife.
Thirteenth day of Christmas was a great feast day in the medieval church: Epiphania Domini, the revelation of the Lord, was celebrated in memory of Christ coming to the world as king. Church music was common to all of Catholic Europe. This is what we call Gregorian song, and it also sounded in Norway. On that very day, the holy three kings came to worship the child of Jesus with gifts, and the priest read the same story from the gospel.
---
19th of January
Terje Kvam 75 years – anniversary concert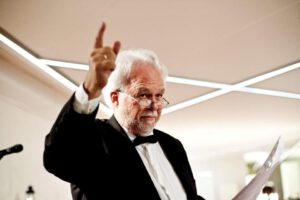 Oslo Cathedral
Consortium Vocale participated with former singers from Oslo Domkor
Terje Kvam turned 75 on December 10, 2019. In this connection, he invited to a concert in Oslo Cathedral.
Terje Kvam, conductor
Kåre Nordstoga, organ
---
May 31
Rygge Church (Viken Norway)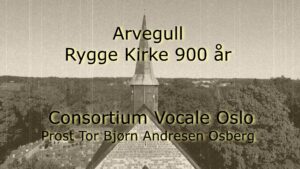 On the occasion of the church's 900th anniversary.
The concert could not be performed with the audience due to the corona situation.
However, the concert was published on the Facebook page to: Arena Moss church and cultural center.
---
29th of July – St. Olavs day
Posted a video on Facebook: "Regnante illustrisissimo" antiphone from the Historia Sancti Olavi.
---
September 11
Oslo Cathedral
Aranged by Oslo Cultural Night
The official Cultural Night arrangement was cancelled due to the corona situation.
---
September 13
Utstein Kloster
Rogaland, Norway
Joint concert with Schola Solensis
This project will hopefully take place in September 2022.
---
October 4th
Oslo Cathedral
Organ mass: Frescobaldi: «Messa delli Apostoli»
With the organist Marcus André Berg
---
Gregorian Concert: "Maria and Olav"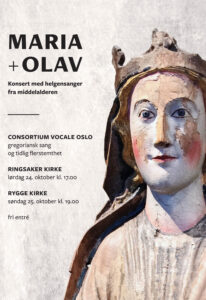 24th  October
Ringsaker church, Innlandet, Norway
25th October
Rygge Church, Viken, Norway

---
October 19th to 26th
Concerts in South Korea
Postponed to October 2022
---
December 12th and 13th
Advent concerts in Oslo Cathedral
"Klinge skal et jubelkor"
With all choirs in the Oslo Cathedral
The concert was cancelled due to the corona-pandemic
---
Concerts  2019
Concerts 2018
Concerts 2017
Concerts 2016
Concerts 2015
Concerts 2014
Concerts 2013
Concerts 2012
Concerts 2005 – 2011
Concerts 2000 – 2004 
.