8. January 2017 at 19.30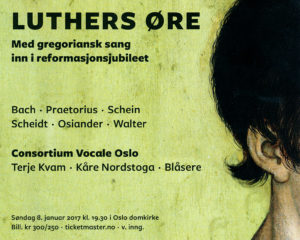 LUTHERS ØRE (Luther´s ear)
Gregorian chant into the Reformation anniversary
Click the poster to turn it
Consortium Vocale Oslo
Sopranos from Oslo Cathedral Choir: Mari Lunnan, Alvilde Riiser
Organ: Kåre Nordstoga
Sacbuts: Helene Øverlie, Wenche Tjentland, Ingebjørg Bruket
Conductor: Terje Kvam
Consortium Vocale Oslo
marks the beginning of the Luther year 2017 by showing how some ancient Gregorian melodies lived on as hymns in Luther's Reformed Church. Hymns like Veni Redemptor gentium, Puer natus in Behtlehem and A solis ortus Cardine belongs to Advent, Christmas and New Year. At the concert you will hear the Latin hymns in orignal version and polyphonic compositions of the great Protestant Reformation composers from the first two centuries. In addition, we sing some Gregorian chants for the feast of the oldest repertory. For the occasion Consortium Vocale has invited two sopranos from Oslo Cathedral Choir, sacbuts-players, Kåre Nordstoga on organ and Terje Kvam conducting. Welcome to the concert at Christmas end on January 8!
---
7th to 9th of July:
Concerts in Budapest and Vàc, Hungary
The V. International Gregorian Festival 
7th of July:
Sacred Heart church, Budapest, Mária str. 25.
19.00 Gregorian mass
19.30  Shared concert with Pueri Cantores of Daegu (South-Korea)
8th of July at 12:00
Franciscian Church, Vàc
Sexta
8th of July at 19:30
Cathedral in Vàc
Shared concert with Schola Cantate et Iubilate (Budapest)
Entire program of the festival
---
15th to 18th of September
Concert tour in Germany with "Gli Scarlattisti". Concerts in Hildesheim, Celle and Nienburg.
This is an invitation from the cantor at Hohen Dom zu Hildesheim, Tomas Viezens. The title of the project is: "Mit Fried und Freud – Praetorius meets Gregorianik." This project is also part of this year's Reformation anniversary.
15.09.2017, 20:00 – Dom zu Hildesheim
16.09.2017, 19:30 – Martin Nienburg
17.09.2017, 17:00 – Stadtkirche Celle
---
22. of October
"Universitetets Aula" Oslo
Participating in a concert to celebrate The Norwegian Society of Composers 100 years aniversary.
Concert is arranged by Grex Vocalis and Arena Klassisk
---
  9. of December at 15.30 and 18.00
10. of December at 16.30 and 19.00
Oslo Cathedral
"Klinge skal et jubelkor"
With all choirs in Oslo Cathedral
http://www.oslodomkor.no/klinge-skal-2017
---
21. of December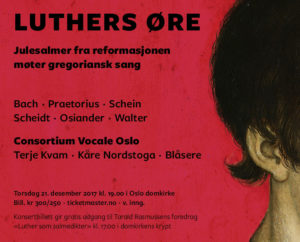 "Luthers øre"
Oslo Cathedral
Christmas concert. Music from period of Luther meets gregorian chant.
Participating guests:
Sopranos from Oslo Cathedral choir: Alvilde Riiser and Mari Lunnan
Norwegian Cornett and Sackbuts
Kåre Nordstoga organ
Conducted by Terje Kvam
click to see the other side of the poster here
---
Concerts 2016
Concerts 2015
Concerts 2014
Concerts 2013
Concerts 2012
Concerts 2005 – 2011
Concerts 2000 – 2004 
.