10. and 11. December 2016
Consortium Vocale took part in the concert:
"Klinge skal et jubelkor" – Christmas-concert with all choirs connected to the
cathedral of Oslo.
---
16. September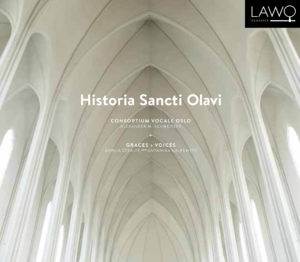 Consortium Vocale presented songs from the brand new CD: "Historia Sancti Olavi"
(Lawo Classics). Members of the group
Graces & Voices attended the concert.
The concert was a part of the arrangement:
Oslo Culture Night.
---
5. March 2016
Salvum me fecit
Nikolai Church, Granavollen, Hadeland, Norway
The concert was part of a seminar organized by Ad-Fontes:
"Gregorian Chant"
---
10. January 2016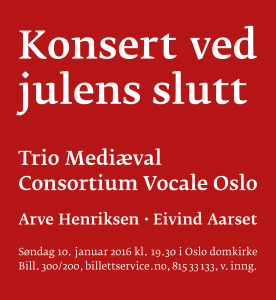 Konsert ved julens slutt
Participating:
Consortium Vocale
Trio Mediæval
Arve Henriksen
Eivind Aarset
Click the poster and make it alive
In Oslo Cathedral Sunday 10th of January we could offer a unique encounter between more than a thousand years old Gregorian chant, medieval sounds and modern jazz improvisation art.
Two of our leading jazz musicians, Arve Henriksen, trumpet, and Eivind Aarset, guitar, participate in the concert Consortium Vocale and Trio Mediaeval held for the 13th time.
---
Concerts 2015
Concerts 2014
Concerts 2013
Concerts 2012
Concerts 2005 – 2011
Concerts 2000 – 2004 
.