12. December 2015 at 16:00 and 17:30
Christmas concertos in Oslo Cathedral (shared concert)
13. December 2015 at 19:00 and 20:30
Christmas concertos in Oslo Cathedral (shared concert)
---
22. October 2015 at 19:30
Orthodox Ascension Church  (Ieros Naos Analipseos)
Volos – Greece
24. October 2015 at 20:00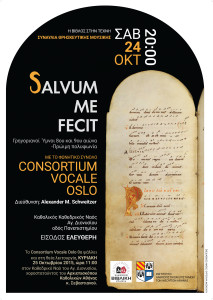 Catholic Cathedral St. Denis (Agios Dionysios)
Athens – Greece

---
Friday 11. September 2015
Chiesa di S. Antonio Abate – Lugano, Switzerland
The concert was shared with Schola Gregoriana Righele from Pescara, Italy
The 10th International Congress of the International Society for Studies of Gregorian Chant (AISCGre) from 8 to 12 September 2015
The 10th International Congress of the International Society for Studies of Gregorian Chant (AISCGre) took place in Lugano, Switzerland from 8 to 12 September 2015.
This meeting in 2015 has been a concluding event for numerous international initiatives commemorating the 10th anniversary of Luigi Agustoni's passing away (✞ 2004) in Orselina the place where Luigi Agustoni – one of the pioneers of modern Gregorian research and of the liturgical reform in the 20th century – has lived and worked as professor for liturgy and Gregorian chant as and where he was parish priest. Therefore, the board of directors of AISCGre together with other promoters have decided to dedicate the congress: IN MEMORIAM LUIGI AGUSTONI.
The congress will explore various aspects of this core theme:
The Word becoming Sound – Principles of Gregorian Composition
Cordially yours!
Johannes B. Göschl (President of AISCGre)
---
Olavsfestdagene 2015
Wednesday 29th of July  "Olsok" – from 00.30 am to 8.00 am
Nidaros Cathedral, Trondheim, Norway
The holy night (from the festival-program in Norwegian)
Consortium Vocale and Graces&Voices singing vesper and laudes from the Olav officium
---
Friday 13 March 2015  –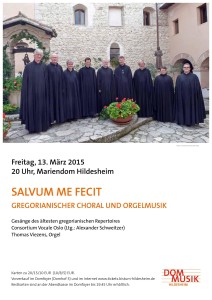 Mariendom, Hildesheim, Germany
SALVUM ME FECIT
Gregorianischer Choral und Orgelmusik
Consortium Vocale Oslo
(Ltg.: Alexander Schweitzer)
Thomas Viezens, Orgel
Gesänge des ältesten gregorianischen Repertoires
Orgelchoräle von Johann Sebastian Bach.
---
Oslo Cathedral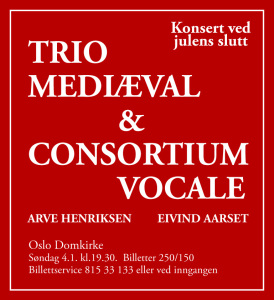 Sunday 4th of January
Konsert ved julens slutt
Participating:
Consortium Vocale
Trio Mediæval
Arve Henriksen
Eivind Aarset
click the poster and see what happens
In Oslo Cathedral Sunday 4th January we could offer a unique encounter between more than a thousand years old Gregorian chant, medieval sounds and modern jazz improvisation art.
Two of our leading jazz musicians, Arve Henriksen, trumpet, and Eivind Aarset, guitar, participated in the concert Consortium Vocale and Trio Mediaeval held for the 12th time.
---
Upcoming concerts
Concerts 2014
Concerts 2013
Concerts 2012
Concerts 2005 – 2011
Concerts 2000 – 2004